How to protect children online and in the real world;
galaxy note 8 phone finder.
How to Track my girlfriends phone without her knowing for free??
spying on cell phone calls.
Bonus tip: Another way to track your child's phone!
For iOS, Spyic can be set up remotely. Step 4: Spyic should be installed in 5 minutes. After it syncs up with the target phone or tablet, you will get access to the Spyic dashboard.
Most spy apps in the market require you to root or jailbreak the target device to be able to monitor it. Spyic, however, was made with bleeding-edge technology.
Free way to track GPS, phone calls, text messages and web activity on a phone | waciciriwi.tk
It works without jailbreak or root — and offers more features than other spy apps to boot! As a final safety fallback, you can even uninstall Spyic remotely in a single click from the dashboard. The Android version of Spyic is a very small app at less than 2MBs. It works in the background without draining the battery or slowing down the phone in any way.
How to protect children online and in the real world
The app icon remains hidden, making it essentially invisible. The iOS version of Spyic can be set up fully remotely.
Read Your Girlfriend Or Friends Whatsapp Messages 2019
Because it works with the iCloud backup instead of the iPhone or iPad itself, Spyic is impossible to detect! The app is popular with parents, employers, and people like you who are in troubled relationships.
Spyic receives rave reviews from its users. As we mentioned earlier, Spyic works without root or jailbreak. Rooting and jailbreaking are complicated processes. Once you have Spyic set up, you can control the app remotely.
The app was made to be easy to use. You are provided with clear, simple-to-follow setup instructions. The user interface is also intuitive and simple to operate. FreePhoneSpy is a monitoring tool with amazing features that let you do anything from your phone. It tracks the victim and shares all this information with the people on another side. Therefore to spy her text messages you need this app. FreePhoneSpy will do all these for you. However, if you want to spy her messages for free, then such options are also available.
Send her fake messages with attachments which secretly download a spy app on her phone when she clicks it to open. These options are not reliable because it has some loopholes that can be easily identified. Hence app spy works better than all such methods. It is the safest spy app available that offers the best experience to users. Use it once, and you will know the difference. All your doubts and misunderstanding will now be clear, and then you can decide according to the result.
To get around legal problems, Phone Tracker puts an icon on the gadget's home screen and fires off a notification every 12 hours telling the person they're being monitored. That's actually a good thing in most situations, but kids are resourceful. If they know they're being watched, they can find ways around the app.
So, either tell them you're putting it on there and you expect them to leave it alone or go for a paid app that's completely hidden. To install the app, you will need access to the phone or tablet.
europeschool.com.ua/profiles/sabamem/sixyr-agencias-matrimoniales-funcionan.php
How to spy on your girlfriends text messages for free
Tap or click here to download the free app for iOS. Tap or click here to download the free app for Android. Not ready to install a new app? Here's a simple way to track a phone's location, no download required. In the upper-right corner, touch the " Information " icon, which looks like a lowercase I. Tap " Send My Current Location " to instantly send a map of the phone's current location, one time only. Or just below it, hit " Share My Location ," which will continuously send the phone's location to your Apple gadget.
To see the phone's location, go to your Messages app and find your child's contact. Tap the " Information " icon and a map will display the phone's location. Note that your child can easily turn off this location sharing anytime, but perhaps a firm conversation about the consequences of doing so might encourage him or her to leave it on.
Note : These features will also work for your Apple gadgets that are running older iOS versions. Want to track your child's Android device? Click or tap here to learn how. Tired of social media platforms selling your personal information? Looking for a safe place to connect with your loved ones and share photos?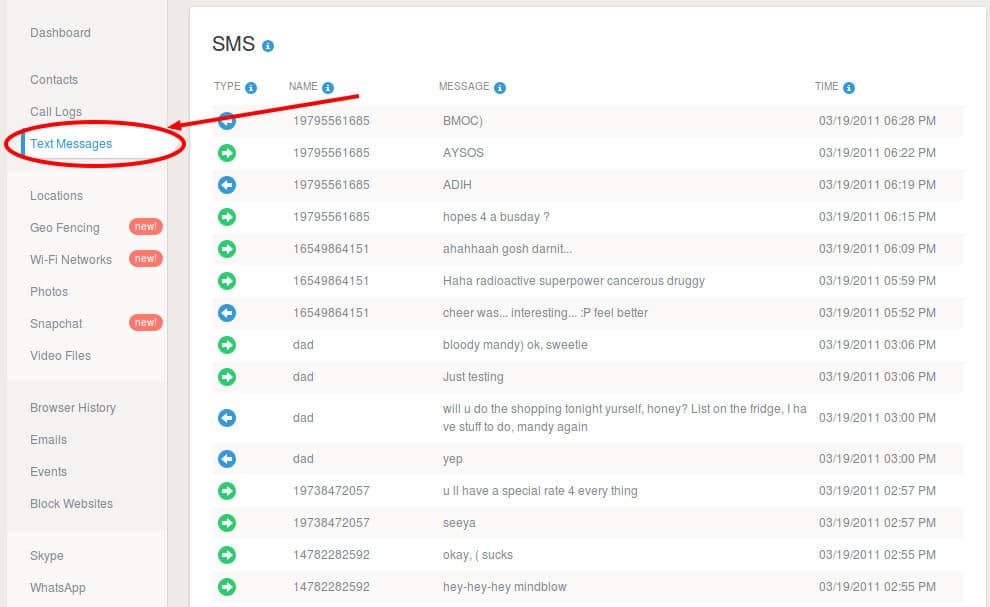 How to track girlfriends text messages
How to track girlfriends text messages
How to track girlfriends text messages
How to track girlfriends text messages
How to track girlfriends text messages
How to track girlfriends text messages
How to track girlfriends text messages
How to track girlfriends text messages
How to track girlfriends text messages
---
Copyright 2019 - All Right Reserved
---